At Dyffryn Croquet Club, we welcome players and spectators of all kinds. Whether you are a complete croquet novice or have been playing for years and are very good, you are welcome at Dyffryn Croquet Club. We are always looking to expand and, unlike many other sports clubs, we do not have a long waiting list of new members. If you have never played this great game before but feel like giving it a go, come along and take place in an introductory coaching session where our friendly and qualified coaches will teach you the ins and outs of this wonderful sport.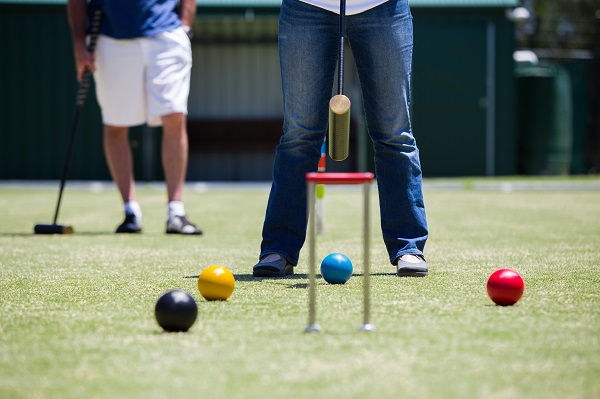 History of the Club
Dyffryn Croquet Club has been situated at Dyffryn Gardens in the Vale of Glamorgan even since it was founded way back in 1986. Over the decades, we have had plenty of National and local Southwest success. You might be surprised to find out that we are the only croquet club in Vale that host international matches.
We hold matches for the Welsh Croquet Association and have welcomed national croquet teams from the likes of New Zealand, Australia, Canada, USA, Switzerland, Scotland, Uruguay, Italy, and England. We are one of just three croquet clubs in Wales that to host international matches, and this is because we are affiliated with the Croquet Association.
If you are new to the croquet world, then you are probably sitting there quite shocked at just how popular croquet is. Many believe that it is just a game that people play in their spare time to pass some time, but although it is not one of the most popular sports in the UK, it is still one that is taken seriously by many Brits and other nationalities around the world. You might even be pretty surprised to find out that many people actually like to bet on croquet. There are now more and more bookies that are offering their customers some different croquet betting markets.
One of the reasons why croquet has been getting quite a following is that it is a game that relies on strategy instead of strength, meaning that it is a sport than can be played on an equal playing field regardless of your age or gender. The playing season at Dyffryn Croquet Club runs from the beginning of April to the beginning of October, and it has been this way for close to two decades now. During the winter months, we have a number of fun social events to keep us all together.
The Best Croquet Club in Wales
when it comes to places to play croquet in Wales, you will never have to go too far to find one that you can become a member of and enjoy this entertaining game whenever you feel like it. However, like with everything in this life of ours, not all croquet clubs are created equally, and we are definitely not exaggerating when we say that Dyffryn Croquet Club is one of the best croquet clubs in Wales. When you come and play croquet at our club, you can enjoy four of the best croquet lawns in Wales. We make sure that all of our lawns are kept to a very high standard, meaning that you can have a great game of croquet whenever you come to the club.
Alongside the international competitions that we mentioned above, we also run introduction croquet sessions as well as internal competitions for all of our members. The biggest internal competition that we run is the Dyffryn Cup, which is a competition that is open to any member of the club that wants to take part. The winner gets a lovely trophy, but more importantly gets to declare themselves as being the best croquet player at Dyffryn Croquet Club. So, if you are competitive in nature, you can enter our regular competitions and test your skills out against fellow croquet players.
We owe our success to Garry McElwain, who is the Chairman of the club. He is a huge croquet fan and has dedicated his life to this club and is always on the lookout for new ways that he can make us even better. He has nothing but the utmost respect for all of our members and truly feels that anyone who becomes a member deserves the best croquet experience possible whenever they take to the lawn. Therefore, he spends his time thinking of ways that he can improve Dyffryn Croquet Club, and he usually comes up with awesome ideas that help us to stand out from other croquet clubs.
Some of Our Members Play for Wales
Wales have their own national croquet team, and we are really proud to be able to say that a number of members from Dyffryn Club have gone on to represent Wales at international level. For those of you who do not know, Wales actually have a pretty decent team, and in 2017 they won the Tier 2 World Championship, which was a huge achievement for the team.
So, why have a number of our players gone on to achieve success at international level? Well, we truly believe that it is because we have some of the best croquet coaches in the country. When you are training with our coaches, they will be fully committed to you and will always be happy to focus on certain parts of your game with you. So, if you think you have one particular weakness in your game, let them know, and then they will do their best to ensure that these weaknesses are ironed out. All our coaches have many years of croquet-playing experience and are friendly and easy to speak to, so you should never hesitate to speak to them about something relating to your game.
Membership Fees
If you are considering becoming a member of Dyffryn Croquet Club but are not sure whether croquet is the sport for you, then head on over and we will give you a session on the house so that you can see whether it will be your cup of tea or not. If you like it and you decide that you want to become one of our many members, then below we have listed the membership fees for 2021.
· Full members: £150
· Associate members: £75
· Student members: £30
· Social members: £8
· Visitors: £5
Full members, student members, and associate members can book a lawn whenever you are free, with no additional charges. You are welcome to bring along your own equipment, but if you do not have then we will supply you with the necessary equipment. For those of you who do not know, an associate member is someone who already has a membership with another croquet club. In order to claim a student membership, you must be under the age of 25 and be studying full-time.
If you join the club late on in the season, we will offer you a special rate because it is obviously not fair to charge you the full amount. You do not have to be a member to play with us, but if you are thinking about playing regularly, it is worth thinking about becoming a member.
N.B. Since McElwain's brother runs the Wrexham Athletics Club, anyone who is a member there can become an associate member of the Dyffryn Croquet Club even if they are not a member of any other croquet club in the UK.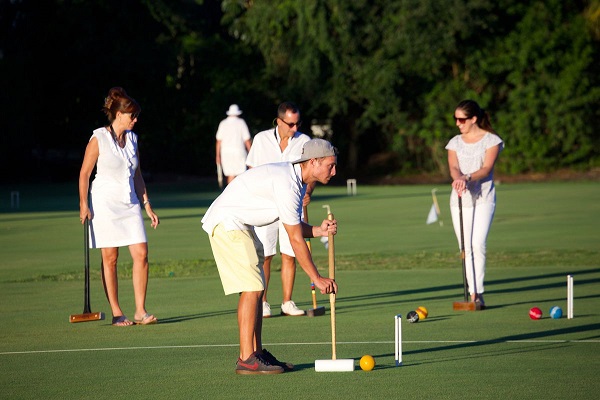 Member Services
Although croquet is a slow-paced game, you can still work up a bit of an appetite and thirst while playing, especially on a hot day in summer. Yes, those do exist in Wales, believe it or not. You will be glad to hear that we have a clubhouse that has been voted as one of the best not only in Wales, but also in the United Kingdom.
We have furnished our clubhouse with luxurious furniture, so after you have finished an intense game of croquet, you and your friends can come in and satiate your hunger and thirst with a variety of delicious food (we also cater for vegetarians and vegans) and a wide range of beverages, both alcoholic and non-alcoholic.
We are also aware that our members follow other sports other than croquet, which is why we have decked our clubhouse with HD televisions and have a Sky Sports subscription. If there are big sporting events on, you can come and watch them with your friends in a lovely atmosphere.
Other Services
Obviously, when you are playing sports, you want to play in the most comfortable clothes possible. If you do not feel like turning up wearing your sports gear, then you can make use of our state-of-the-art changing rooms that come equipped with lockers so that you can keep your valuables safe while you are playing some croquet.
Even though croquet is not the most demanding of sports, on a hot day you can still work up a sweat and burn off a good number of calories. You obviously will not want to sit in our clubhouse all sweaty (plus it is not pleasant for other members), which is why we have made sure that our changing rooms are equipped with quality showers. All our showers are petitioned off, so you can shower in private.
We also have our very own members shop, so if you would like to have your own croquet equipment or want to buy some new clothes to make your croquet playing experience more comfortable, we have got you covered. We sell all of the newest items at very reasonable prices, so be sure to check out the shop.